Here is the list of plugins that I recommend to build a secure, fast and great looking website. These are battle tested and we have used them for most of our clients.
I am listing them based on the part or functionality of website they address, and plugins were chosen based on their performance, downloads, rating and how frequently they are updated.
1. Builder
WordPress website builders are tools that allow users to create websites without needing to know how to code. These builders offer pre-designed templates and drag-and-drop interfaces, making it easy to customize your website's design and layout.
My recommendations are, both are paid.
Elementor – This is a drag-and-drop page builder that allows you to create custom pages and templates. Very intuitive and comes with tons of prebuilt features. One downside, I see with it is, it take bit of time to load.
SiteOrigin – This is my favourite, it is super lightweight and they have amazing support.
2. Security
When it comes to securing your website against any hacks, attacks and other security vulnerabilities, Wordfence helps you take care of that by alerting and preventing attacks/hack attempts. They also offer a central location from where you can manage all your websites, ensuring all your plugins are updated and view if any website has any critical issues.
Wordfence – They offer both free and paid. Highly recommend. I have been using it for all my clients.
3. Multilingual
I first used it when building a website for Japanese Biotech client, they were looking for bi-lingual website — En and Jp. I looked around and found that Translatepress was very easy to use. It works on string replacement, so if you add a translation at one place, it is applied to all instances of that string across that website. And interface is very intuitive and easy to work with.
Translatepress – They also offer both free and paid versions.
4. Caching
If you are looking for get a score of 99/100 on Google pagespeed, this plugin in must. In general, with caching plugin installed and activated, it enhances the customer experience, as your site loads in a snap. What plugin does is, it create cache files for all your pages and serve pages from there, so it loads fast and there is less load on your server.
WP Rocket – It is this best plugin available out there for caching. It does most of the things for you by default after activating.
We achieved a score of 99 for jagattravels.com which has WP Rocket installed.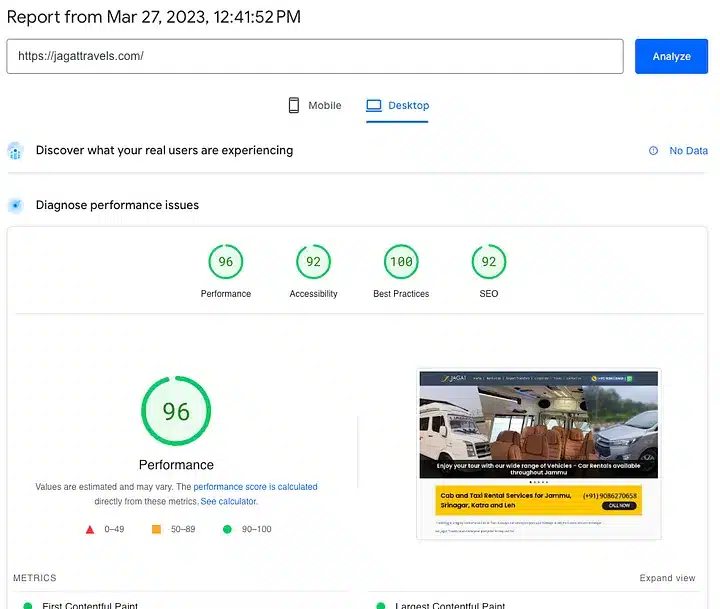 5. Image Optimisation
Now-a-days even our phone cameras capture very high resolution images and their sizes in MBs. If you upload them to your website without optimizing them, it will affect your Pagespeed scores dearly. Optimizing images manually is very tedious and also now google recommends to serve images in Webp format. The Imagify plugin beautifully does both the tasks for you.
Imagify – This is from the builders of WP Rocket and is only comes as paid version. But completely worth it!
6. Create Child Theme
Creating a child theme in WordPress is important because it allows you to make customizations to your website's design and functionality without risking the loss of your modifications when you update your theme in the future.
Child Theme Configurator – this plugin gives you a jump start.
7. Contact Forms
Contact forms are an essential tool for any website, these forms allow you to capture messages, inquiries, or feedback from the website visitor. There are tons of plugins available and all of them offer customizations. I recommend following –
Contact Form 7 – Free — This is one of most downloaded plugin and is very simple to use and configure/customise.
Ninja Forms – They offer both free and paid version and their inbuilt spam feature works pretty well.
8. GDPR
If you have a website that collects personal data from visitors located in the European Union, then you need to have GDPR compliance in place. GDPR regulations provide guidelines for the collection, processing, and storage of personal data and failure to comply can result in hefty fines. Implementing GDPR on your website helps protect the privacy and security of your visitors' personal data and also helps establish trust and credibility with your audience.
CookieYes – They now offer cloud based plugin, which is very easy to install and activate. Pricing is based on number of impressions.
9. Portfolio
Displaying your portfolio or work on your website is a great way to showcase your skills and expertise to potential clients or employers. A well-designed portfolio page can help highlight your best work and make a strong impression on visitors. I have used multiple plugins but found Go Portfolio to be pretty impressive and easy to use and customize.
Go Portfolio – Paid version ONLY.
10. Team Showcase
Showing your team on your website can help personalize your brand and establish trust with visitors. A team page can include photos, bios, and social media links for each team member, helping visitors feel more connected to your brand. Including team members' expertise and experience can also help build credibility and demonstrate the quality of your work.
11. Slider
Using a rotating banner slider on your website can be an effective way to highlight multiple messages or products in a visually engaging way. It's important to ensure that they don't slow down your website's load time. Rotating sliders should also be easy to navigate and include clear calls to action to encourage visitor engagement.
Slider Revolution – Paid only and is the market leader.
Smart Slider – they offer both free and paid.
12. SEO
Optimizing your website for SEO is important as it can help improve its visibility and attract more organic traffic. By incorporating relevant keywords, optimizing meta tags, and enhancing site speed and mobile responsiveness, you can enhance your website's search engine ranking, and attract more potential customers. An SEO optimized website can also help build trust and credibility with your audience, and provide a better user experience.
Yoast – They offer both Free and Paid. In free version, you can perform all the basis configuration that will get you set for all basic tags needed.
13. Manage Menu Access
Created a website for client and also maintaining it, but you are required to give access to client to perform basic updates and do not want to give them full access but limited access? Then this plugins is just perfect
Admin Menu Editor Pro – Works beautifully and does the job well.
14. Post Ordering
Sometimes you need to order your listing/posts in certain sections of your website in a desired order and not by date. This plugin comes very handy in that. Once installed and activated, you can enable it for different post types and can easily manage order of post by simply drag and drop.
Intuitive Custom Post Order or Post Types Order
15. Breadcrumbs
Breadcrumbs are important for website navigation as they help users easily track their location on your site and find their way back to previous pages. They can improve the user experience by providing context and reducing confusion, and also improve SEO by providing internal linking and improving site structure.
16. Print
Although not many people print pages of your website but still for some website you may have an audience that would like to print or download your website page as PDF. The plugin works well and is easy install and configure
PrintFriendly – Free and Paid.
The above list is not the complete list but for a basic website, if you use these plugins you can build a good, fast, secure and SEO optimised website.
The above list is not the complete list but for a basic website, if you use these plugins you can build a good, fast, secure and SEO optimised website.
Looking for expert team to build an incredible website, contact us to speak to an WP expert.
Entrepreneur and Technology Enthusiast | Started Varshyl Technologies, a web and mobile application development company, helping companies build and promote their digital presence. Co-founded Snapworks – a mobile first communication platform for schools. Outside VT, enjoys his morning workouts, reading biographies and golf.