Why do I need a PPC Campaign?
You have just launched an ecommerce site or have just built your online presence and are looking to generate more traffic, leads and revenues from your web site. Like any offline business it takes time before users/people will know about your store or business and you start seeing more footfalls in your store, same is true with Online presence (here your website is your store) too. Either you wait and let your business grow organically where traffic will increase slowly and steadily, however just like you can run ads in newspapers and other channels for your offline store promotion, the same can be done for your Online store using Pay Per Click Campaign, commonly referred to as PPC campaign.
On the internet, if you have a comparatively weaker web presence in search engines, and a big part of your income depends on the customers who reach to you through websites, then PPC (pay per click) is the primary and the most popular way for advertisement online..
What is a PPC Campaign?
As PPC advertising has a direct connection to website traffic and your skill to get that traffic into revenue. The ad, in the form of search engine result, link or a banner, sends visitors to your website or on a page you fix according to your keywords. That page is called "Landing page" in the terminology of a PPC programme. A click on those ads is known as PPP (pay for performance advertising). If a user only sees your link, but does not click, this is called an impression. You are not charged until you did not get a click on your website.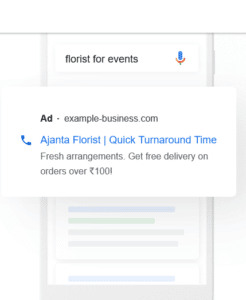 When you opt for PPC advertising on Google Adwords or other Pay per click advertising, for getting maximum traffic and after that maximum profit from your advertisement expenses, PPC campaign management becomes essential for you. The PPC campaign tells you who comes to your website and which keyword has been used. Also it lets you know about the behaviour of visitors when they reach your site through advertising. These informations are vital for managing the PPC campaigns, and determine many things that give you:
Pure and genuine traffic
Idea of important keyword for your website
Visitor converting to customer
Increasing revenue through ads
Types of PPC Ads
There are many types of ad and you can choose any one that suits your business, service or product well. Have a look at below ad types used majorly.
Search – Text ads on Google search results
Display – Image ads on websites/Blogs or on Gmail
Video – Video ads on YouTube
Shopping – Product listings on Google
It is in PPC campaign management that your ad campaigns are evaluated, upgraded, improved, modified for better performance, shifted to attract a different market segment, and carefully analyzed against your competitors. So PPC campaigns must be managed every day.
PPC campaign management, includes many actions like:
Powerful strategy
Setting a budget
Setting goals
Bidding on desired keywords
Optimizing of landing pages
Making landing pages attractive for visitors
Creating the ad copy
Keyword research and selection
Geographic target setting
Creating analytics
Daily monitoring of click through advertising
Management of goal achievement
Scoring leads produced by the PPC campaign
Budget for PPC Campaign?
The best part of PPC campaign is that it is cost effective and you have full command over your budget. If you consider that you can spend Rs. 100 per day, you can easily set up the amount per day basis. On some occasions when you want more clicks on your ads, you can increase it.
Planning to start PPC campaign for your business or need suggestions for existing campaign to get expected result? PPC Experts at Varshyl Technologies are eager to assist you.