I and my team at Varshyl Technologies have been designing and building websites for our client in WordPress from WordPress 2.x days, most powerful, flexible and scalable CMS platform. If you have ever worked on WordPress, you will know that how easy it is to extend/add new functionalities using Plugin. Before I list my recommend list of plugins that you must have on your WordPress website, I want to share an very important advice on how to choose the plugin.
How to choose a plugin
You can search new WordPress plugin here — WordPress plugin directory or from the WordPress Admin > Plugins >Add New and Search. Your search for a plugin it will list out matching plugins.
Before you choose your plugin ensure it meets the following in same order.
1- Number of installations- Higher the better, my recommendation is anything above 10K installations.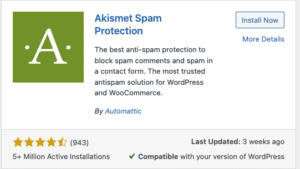 2- Overall rating — Looking for how users have rated and how many have rated.
3- Does it meet your requirements — Scroll through the plugin feature list and screenshot. And then may be install on your development server and play around. You can read about the feature available in plugin under 'Details' tab
4- Support — do they respond, check this by going to support tab and see recent activity. A plugin with active support means plugin developer is active and will more likely to push newer updates with features more frequently. As users also use the support section to request new features.
5- Pro feature/Support — if plugin has pro version, usually if a plugin has Pro version, chances are that a team or developer is actively working on the plugin. In case, you need some help or customisation you can approach the developer.
6. Plugin Author — This one you can actually skip too, but good to know how active the plugin author is and how many other plugins have been developed by the Author.
That's it. I hope next time when you are looking for a plugin, you can make right decision and install the most appropriate plugin, which meets your functional requirements and doesn't open any vulnerabilities and keep your website secure and updated.
In my next post i will share my list of essential plugins that every WordPress website should have.
Entrepreneur and Technology Enthusiast | Started Varshyl Technologies, a web and mobile application development company, helping companies build and promote their digital presence. Co-founded Snapworks – a mobile first communication platform for schools. Outside VT, enjoys his morning workouts, reading biographies and golf.